Mix Anytime, Spin Everywhere with iRig MIX
iRig™ MIX is the first mobile mixer for iPhone, iPod touch, or iPad. iRig MIX offers the same controls you would expect from a professional DJ mixer (crossfader, cues, EQ and volume controls, etc.) in an ultra-compact mobile mixer that can be used with a huge variety of iOS DJ mixing and other apps. It is a complete DJ system for rehearsing, performing and recording. The lightweight and slim design of the iRig MIX allows it to be easily carried in a regular iPad bag. For the first time on any DJ mixer - iRig MIX can be used for mixing any type of audio source (coming from mp3 players, CD players, etc.) with an iOS device using automatic tempo matching and beat syncing. This is accomplished with X-Sync, a feature that works in combination with the DJ Rig free app from IK Multimedia that is included with iRig MIX.


Specs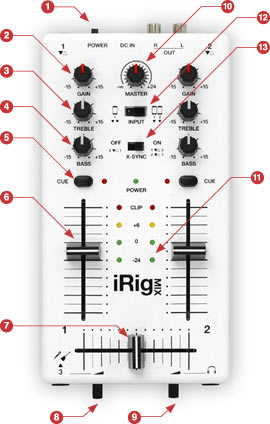 iRig MIX Controls and Indicators
POWER: turn on iRig MIX. POWER LED will illuminate.
GAIN: adjust this control to set the input gain for Channel 1 and 2.
TREBLE: adjust this control to adjust the high frequencies on Channel 1 or 2.
BASS: adjust this control to adjust the low frequencies on Channel 1 or 2.
CUE: press this switch on Channel 1 or 2 depending on which one you want to monitor in your headphones.
CHANNEL LEVEL SLIDER: move this slider up to increase the volume of Channel 1 or 2.
CHANNEL CROSSFADER: move this slider to the LEFT to hear Channel 1 on the master outputs, or move this slider to the RIGHT to hear Channel 2 on the master outputs.
CHANNEL 3 LEVEL: this control is used to set the level for a microphone or instrument connected to Channel 3.
HEADPHONE LEVEL: this control is used to set the headphone volume.
MASTER LEVEL: use this control to adjust the global iRig MIX output volume.
MASTER LEVEL LEDS: these LEDs are used to monitor the iRig MIX level of LEFT and RIGHT master output channels.
INPUT SWITCH: set this switch to the LEFT position (ONE DEVICE) when using the mixer with only ONE iOS device or other music player. Set this switch to the RIGHT position (TWO DEVICES) when using the mixer with TWO iOS devices or other music players.
X-SYNC SWITCH: When used with iOS devices, iRig MIX can send audio from device 1 to device 2 and audio from device 2 to device 1 to allow cross-syncing using DJ RIg app. When X-SYNC is disabled, audio from MIC / Instrument channel 3 input is sent to the iOS device connected on channel 1 for processing with an app like AmpliTube or VocaLive.
---
Controls:

Power Supply:

Low tone controls: ±15 dB @ 80 Hz, shelving
High tone controls: ±15 dB @ 8 kHz, shelving
Trim controls: ±15 dB, 0 dB at center

USB powered through a micro USB (D TYPE) connector
Power consumption: 5 Watt typical; 10 Watt with full headphone output
---
Package includes

Dimensions

iRig MIX
2 x 3.3ft / 1m 1/8" / 3.5mm audio cables to connect iPhone/iPod/iPad
1 x 3.3ft / 1m RCA audio cable to connect powered speakers
Power Supply Unit with micro USB cable

110mm/4.33" x 217mm/8.54" x 46mm/1.81"
(W x L x H)
Weight: 230g/8.11oz
---
Requirements
iRig MIX is compatible any audio device (such as MP3 players, CD players etc).
iOS Devices

iRig MIX is compatible with any iOS device.
X-Sync feature requires DJ Rig app running on iPhone 5, iPhone 4S, iPhone 4, iPhone 3GS, iPod touch (5th, 4th and 3rd generation), iPad 4th generation, iPad 3rd generation, iPad 2, iPad and iPad mini. iOS 4.3 or later is required.
Android Devices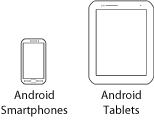 iRig MIX is compatible with any Android device.
Computers


Mac®: any Mac OS X based computer.
Windows®: any Windows based computer.
---
CLEARANCE INFORMATION
Clearance Stock with/without Warranty
Terms and Conditions
We are clearing this stock at reduced prices.
-Below cost and end of line / deleted models;
-New but may have minor cosmetic damage or marking that does not affect the usability of the item;
-Second Hand or Ex-Demo product;
-Boxed or ex-Shop Floor and may be missing accessories, original packaging, manuals etc.
While we attempt to identify any issue to the purchaser, this is not always possible. If you have questions regarding the condition of an item, please contact us, prior to ordering for additional information.
Stock Availability - Because a number of clearance items are one-offs (i.e. only one left in stock), the goods may have been sold already; occasionally it may be a stock anomaly and, therefore, not available.

We take all reasonable steps to ensure descriptions and stock quantities are correct. However, mistakes do happen. If an error occurs, we will advise you as soon as practicable and discuss if there is a reasonable alternative product or solution that may be appropriate.
E & OE
Freighting - Goods can be freighted to your local store on your behalf.
Goods may incur a freight charge depending on :
-the type of goods (e.g. large or heavy)
-the time frame in which you require them
Please email us, or make a note on your order, if you have a particular request concerning freighting of your goods.
Condition -All goods will be tested and sent in working condition.
All products listed here are sold with no warranty (express or implied) unless noted. You agree to this as a condition of purchase.
The warranty status will be noted on your invoice.
No representation is made regarding the fitness of the product for your particular purpose, application or installation.
Finance is available to approved applicants, subject to our normal credit terms and conditions. Application may be made on this site (http://www.rockshop.co.nz/customer-services/apply-for-finance/).

Please note that there are no refunds or exchanges on sale items or clearance store stock.